09/06/2022
Land Cover Challenge 2022 Summary and Wrap-up
From 26 July to 26 August, we asked our volunteer scientists to use GLOBE Observer to collect observations of land cover, tying in with the 50th anniversary of the Landsat satellite and with a special focus on land cover in a changing climate. And our volunteers delivered! Read about the results of the challenge.
>>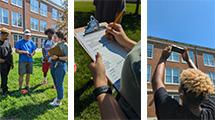 08/19/2022
Wait! What is in that Landsat Pixel you just measured?
With the GLOBE Observer (GO) app and a few simple steps you can provide valuable data for our research! After all, it's only through connecting the space and the ground views that we can verify the areas where we are correct, and pick up on missed areas we map incorrectly.
>>