Do GO - Mosquito Habitats Nav
DO GO - Mosquito Library Header
Mosquito Habitats Resource Library
MHM Resource Library Navigation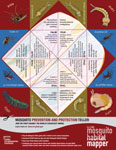 Collection of 5 different versions of the hands-on Mosquito Teller.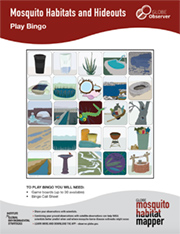 Mosquito Habitats and Hideouts Activity
Gain familiarity with the variety of container mosquito habitats, hideouts, and life cycle stages with these games! Mosquito Habitats and Hideouts can be played three different ways: Bingo, Name That Habitat, or Sketch That Habitat.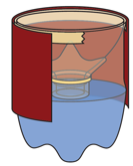 Build a do-it-yourself mosquito trap using simple materials. The trap tricks mosquitoes into laying their eggs in a container that the larvae can't escape. You can then report the larvae using the Mosquito Habitat Mapper tool in the GLOBE Observer app. Set up a trap and monitor it over time to track when mosquitoes are appearing in your area.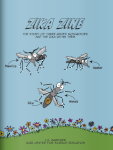 The fictional mosquitoes in the Zika Zine do the same sorts of things as real Aedes mosquitoes, which carry Zika virus. Read the Zine, learn how Aedes mosquitoes live, and you'll discover how to reduce the number of places where mosquitoes can survive. After you've read the Zika Zine, download the coloring pages, How to Draw Wanda in 9 Easy Steps and Make Your Own Zika Zine Comic to create your own mosquito pictures and stories.
How to Draw Wanda in 9 Easy Steps (PDF)
Make Your Own Zika Zine Comic (PDF)