Do GO - Mosquito Habitats Nav
Do GO - Taking MHM Observations - Top Section
Do GO - Taking MHM Observations - How-When-Why
How to Observe:
Identify and photograph a potential mosquito habitat, i.e. source of standing water, or a place where water could collect, and report if you see any mosquito larvae present in the water (required)
Sample and count mosquito larvae present in the water (requires a scoop or container to take a sample, optional)
Photograph larvae using a smartphone clip-on magnifying lens or microscope, and use a scientific key within the app to identify the species of the larvae (requires magnification from a microscope or macrolens attachment, optional)
If possible, eliminate the habitat (i.e. by emptying out a container of water, optional)
Safety tips:
While mosquito larvae are harmless, adult mosquitoes may be present when taking observations. Female mosquitoes bite and can potentially transmit disease. You should wear long sleeves and apply insect repellant containing DEET to avoid bites.
Protect yourself from contaminated water sources with gloves and safety goggles. Trash, like water bottles and plastic bags, can become mosquito habitats when they collect water. If you will be cleaning up trash, you may want gloves and trash grabbers, and don't handle any trash that appears unsafe.
When to observe:
Observe any time, even when there aren't mosquitoes - observations before the beginning of mosquito season give a baseline for seasonal changes. Mosquitoes can be active earlier than you expect.
Where to observe:
A potential mosquito habitat is anywhere that provides a pool of still water that allows the larvae to grow. This can be natural puddles, ditches, or trash and other abandoned items. You can find larvae in water sources as small as a bottle cap and as large as a cistern.
Make sure you have permission to collect samples and eliminate habitats if needed.
You may also wish to set up a mosquito trap to see if there are mosquitos in your area.
Mosquitoes do play a role as part of the natural ecosystem, as food sources and pollinators, so we are especially focused on eliminating habitats created by human activity (for example discarded items) and near human habitation to reduce the threat of disease, rather than trying to get rid of all mosquitoes everywhere.
Do GO - Taking MHM Observations - FAQs
Frequently Asked Questions - Mosquito Habitat Observations
This section is for questions about how to use the app to take observations. If you have an overall app question, not specifically about the Mosquito Habitat Mapper tool, try the general FAQ page. Science-focused questions (such as why scientists study mosquitoes and the NASA connections to the data) are covered on the Mosquito Science page.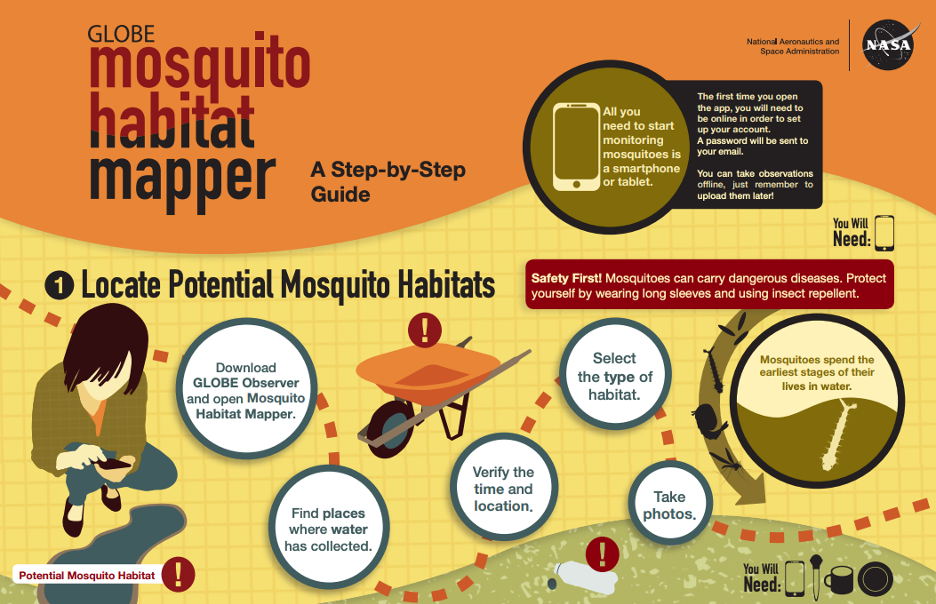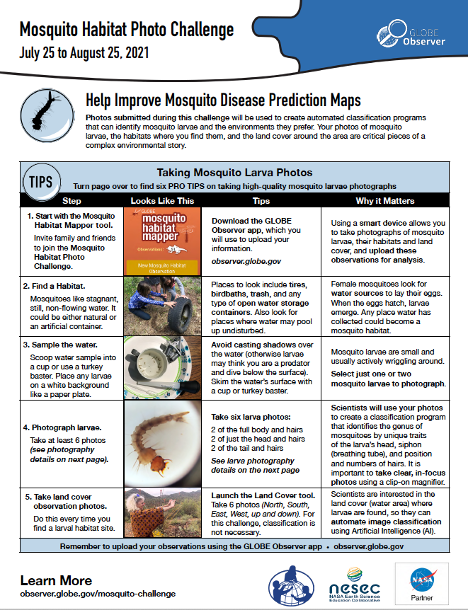 Mosquito Habitat Photo Challenge Photo Tips Handout
This handout describes the process of taking mosquito habitat and land cover observations during the Mosquito Habitat Photo Challenge, and gives tips about how to take high-quality mosquito larvae photos.