Mosquito Toolkit Printable Header
Printables and Promotional Materials
Printables Promotional Materials
Use these materials to promote your program and give participants something to bring home.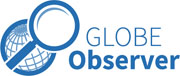 Download the GLOBE Observer logo in blue, black, and white to use in promotional materials.
Planning on taking photos of participants during your program? Here is a sample photo release form that you can adapt to your organization. We would love to see your photos!