GO on a Trail - Citizen Science Challenge
June 1, 2019 - September 2, 2019
Short link to this page: https://observer.globe.gov/go-on-a-trail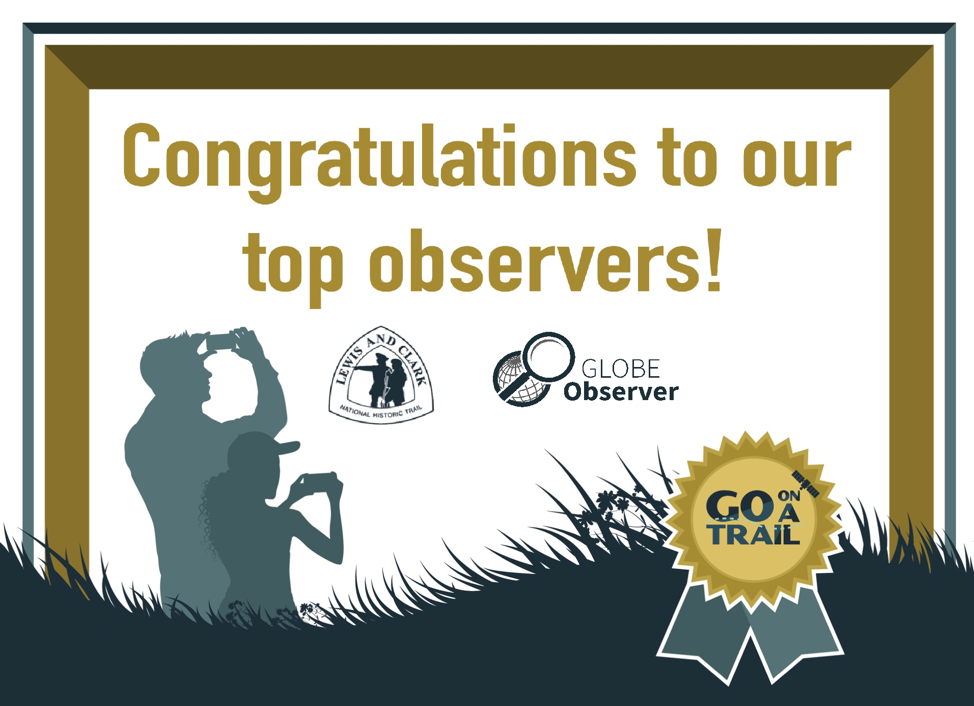 We are pleased to announce the top observers in the GO on a Trail data collection challenge! These citizen scientists helped us document the environment around them with GLOBE Observer, whether it was along the path of our collaboration partner, the Lewis and Clark National Historic Trail, or in GLOBE Program countries around the world.
Suzi Taylor, Montana State University Science Math Resource Center
Jenny Queen
Michael Miller and Chuck Nelson
A. Spencer
Bev Monigal
Shannon Kelly
Dorman Bazzell, North Dakota
Erin C.
Elizabeth Dunn
Citizen Scientist from the United States (remaining anonymous)
Asia and Pacific
National Kinmen Senior High School Observatory, Jincheng Township, Taiwan
Mitchell and Samual Haley, Southern Barossa Scout Group, Australia
Erik Lensson, Australia
Africa
Berthy Buah, Ghana
Amos Kuai and St. Scholastica Catholic School, Nairobi, Kenya
Europe and Eurasia
Citizen Scientist from Poland (remaining anonymous)
Philip Montgomery, United Kingdom
Andrzej Majkut and his students from Cardinal Stefan Wyszyński Complex of Elementary Schools in Jadachy, Poland and the Complex of Schools F. Dury in Chmielów, Poland
Citizen Scientist from Poland (remaining anonymous)
Latin America and Caribbean
Paulo Murillo-Sandoval, Colombia
Juan Manuel Vazquez Ramirez, Paraguay
North America (away from the Lewis and Clark Trail)
Shumate Middle School Citizen Scientists, Gibraltar, Michigan, United States
Spencer Greenfield, United States
Citizen Scientist from the United States (remaining anonymous)
Worldwide, we received over 2800 observations. You can see the numbers broken down by GLOBE Region below.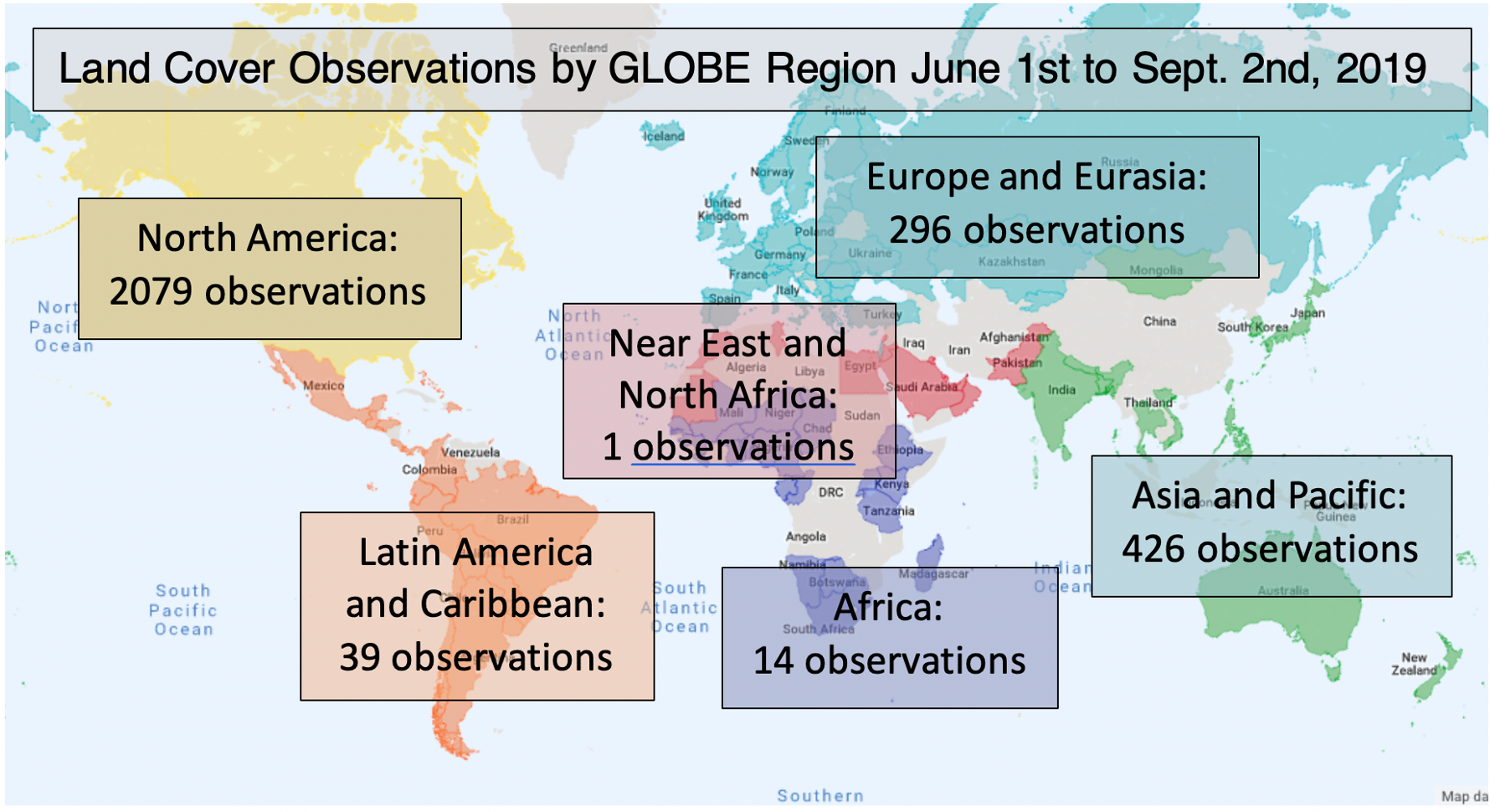 We received over 900 observations from within the Lewis and Clark Trail swath. This video shows a selection of those observations from the Trail.
---
How it Works:
Join NASA GLOBE Observer and the National Park Service's Lewis and Clark National Historic Trail for a citizen science data collection challenge from June 1 (National Trails Day) to September 2 (Labor Day). Use your smart phone and the GLOBE Observer app to map land cover along the Lewis and Clark National Historic Trail and elsewhere to assist scientists studying environmental changes.
Download the App
Find NASA GLOBE Observer on the App Store or Google Play. You will need email access to register for an account.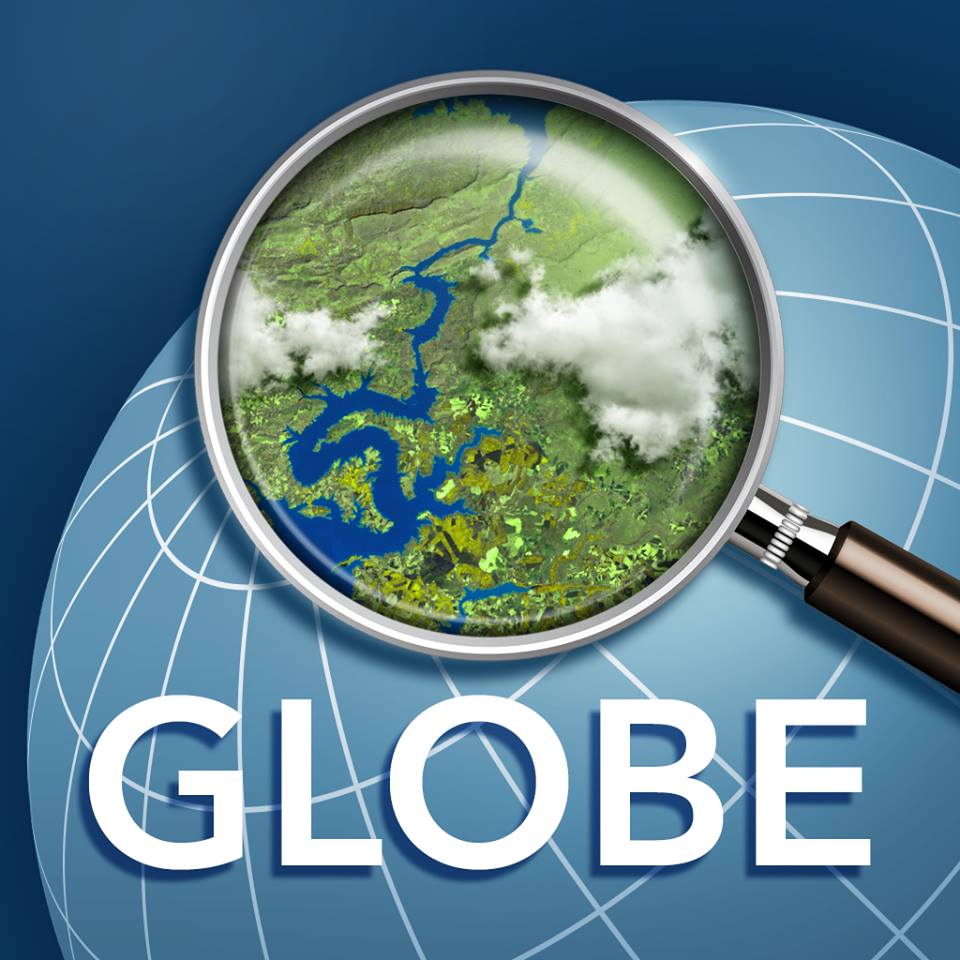 Make Observations
Use the Land Cover tool in the GLOBE Observer app to make observations of your surroundings. The app includes a tutorial showing how to collect data, but you can also find more information and observation tips here.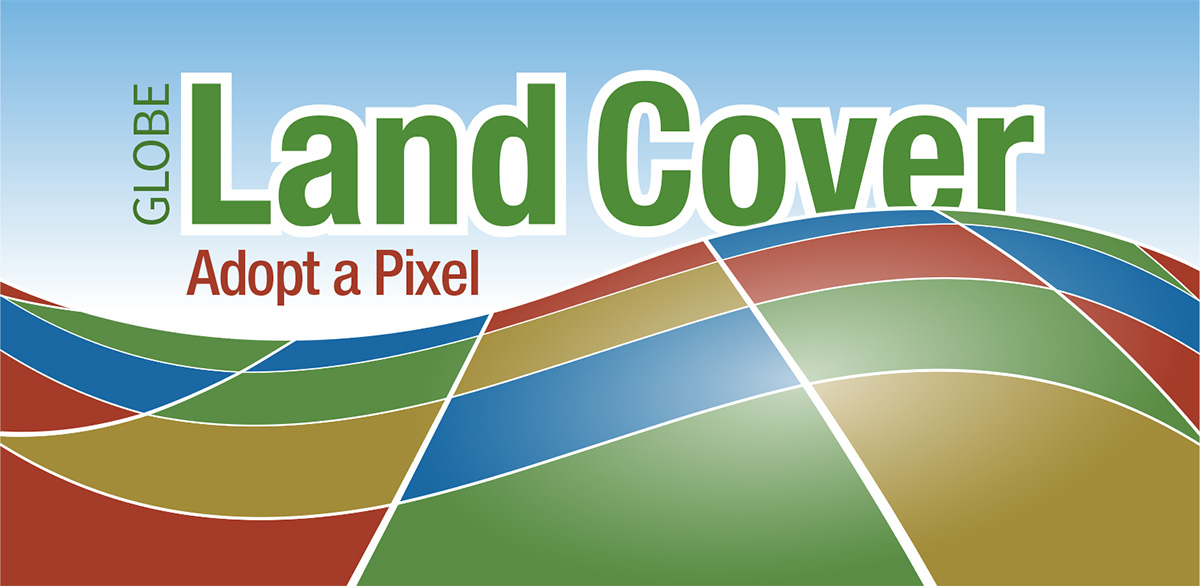 Earn Points
There are three ways to earn points toward the Lewis and Clark National Historic Trail portion of the challenge, marked on the map below.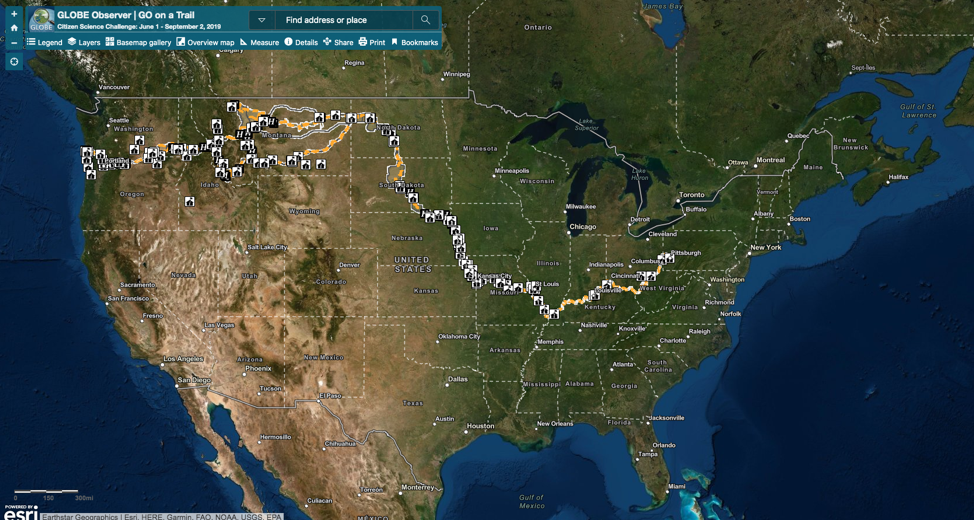 4 Points: Observation Stations are outdoor stickers located at visitor centers and museums along the trail. While taking your observation, be sure to capture the station in your DOWN photo. Researchers can use repeat observations from these stations to determine how consistent the app is in its measurements.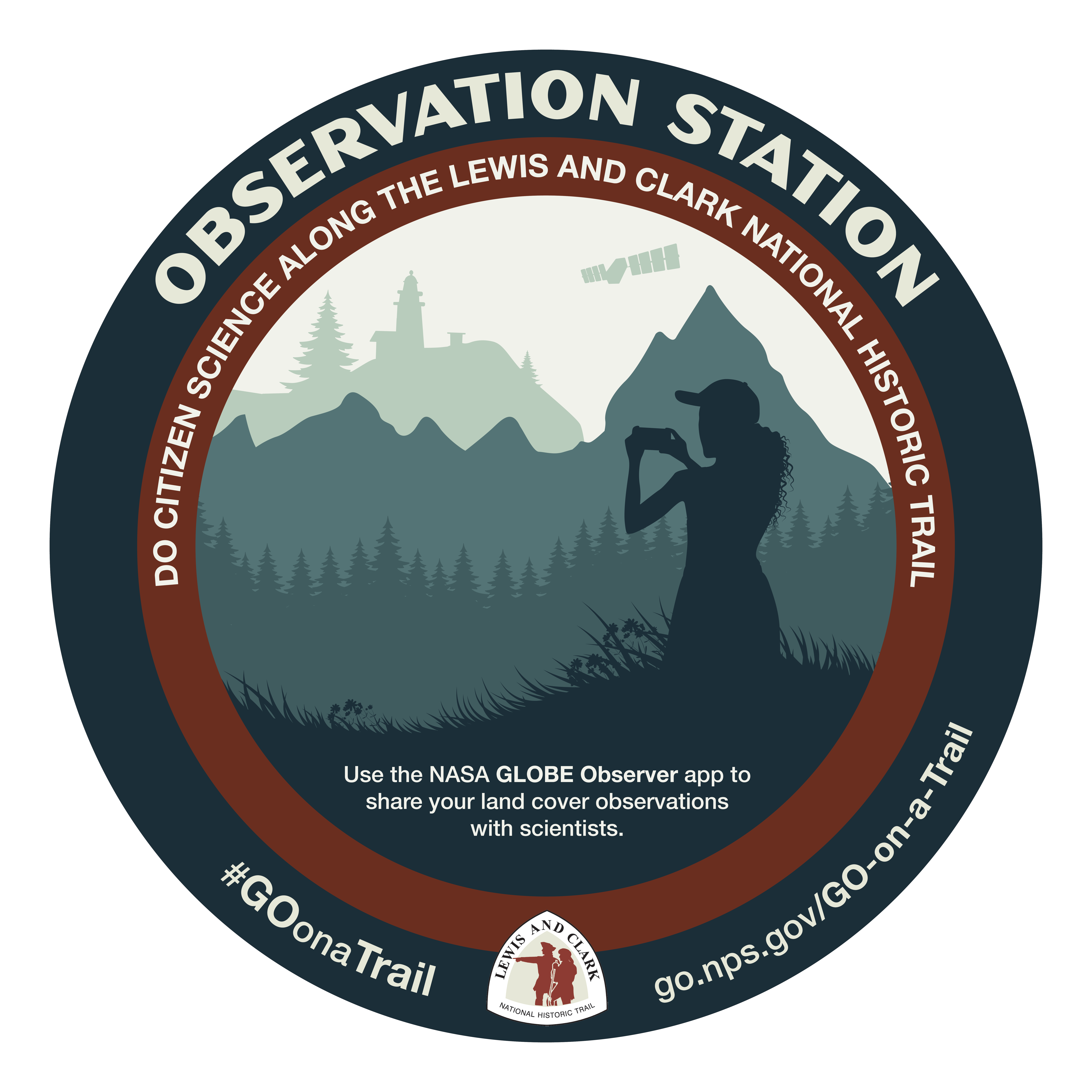 2 Points: Use the map to navigate to designated historic sites along the trail (marked with an "H"). Many of these sites were described by Lewis and Clark 200 years ago. Observations taken at these sites are useful for studying changes along the trail and elsewhere. Learn more about the historic sites. Be sure to stay on the trail, and do not enter private property or dangerous areas.
1 Point: Take observations anywhere along the historic and auto trails. There is a 10 km buffer in which you can earn points. The small dots within this area indicate the center of a Moderate Resolution Imaging Spectroradiometer (MODIS) satellite pixel. The closer your observation is to the center, the simpler it is for scientists to compare your observations to satellite data; but observations anywhere within this area are valuable.
Share Your Observations
Remember to submit your observations in order to earn points. Your observations will be shared with researchers and other citizen scientists. Participants who collect the most points will receive a certificate and a package of commemorative material.

What if I can't get to the area of the Lewis and Clark Trail?
Those who aren't able to visit the Lewis and Clark National Historic Trail this summer can still join the GO on a Trail challenge from any of the more than 120 countries where GLOBE Observer is active by going outdoors and mapping the land cover around them. Participants can take as many land cover observations as they like, but only one observation per location will count in their point total. Each observation should be separated by at least 330 feet (100 meters). The top participants along the trail and the top participants beyond the trail will receive recognition and GO on a Trail commemorative material.
Follow Us on Social Media
For the latest updates about the challenge, follow GLOBE Observer (Facebook or Twitter) and the Lewis and Clark National Historic Trail (Facebook, Twitter, Instagram) on social media.
As you collect data, remember:
Leave no trace, take only observations.
GO on a trail... and STAY on it. By staying on marked trails, you are protecting sensitive ecosystems and reducing your risk of coming into contact with dangerous plants and animals.