null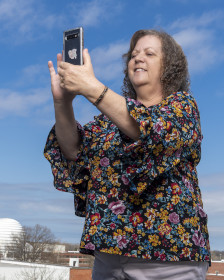 Mrs. Tina Rogerson
Scientific Programmer/Analyst
NASA Langley Research Center
Mrs. Tina Rogerson is the scientific programmer and analyst for the NASA GLOBE Clouds team at NASA Langley Research Center in Hampton, VA with SSAI. Tina analyzes your cloud observations and writes the code that matches them to satellite data. She is also in charge of making sure a personalized email from NASA is sent your way!
Where are you from?
I am from Poquoson, Virginia a small town located on the east coast of the USA.
What do you do for fun?
My fun time is when I'm hanging out with my family. My favorite place to do this is at the beach. There are a lot of beaches near me and I go as often as I can. My dog, who is a dachshund loves walking on the beach with me and enjoys chasing the sea gulls. My favorite hobby is stained glass and anything related to working with colored glass.
What was your first job?
My first job was working at a fast food restaurant called Hardees. I was 16 years old, in high school when I got this job. I would come in very early on the weekends and bake biscuits.
What inspired you to work in this field?
After high school my parents told me that I had a choice to either pay them rent or pay for college classes. College classes were cheaper so I chose to go to school. I've always loved to play games and to solve puzzles. This fit perfectly with the computer classes I started taking. It's like a game to me to see if I can make the computer do what I want it to. I'm also a bit lazy, I figure out how to do things manually and then program computers to do the work for me. Matching GLOBE cloud observations to satellite data is an example of this. This used to be a long tedious process when I first started doing the matches. Now is so much easier and faster since computers do most of the work. The class I hated the most in college was database design. This class was hard and I barely passed the class. I would never have thought I'd be a data manager for NASA GLOBE Clouds and work with databases all the time. If my college professor saw me now he'd be surprised and proud.
What one piece of advice would you like to pass on to the next generation?
Believe in yourself! You know more than you think you do and you're capable of anything you put your mind to.
Comments