null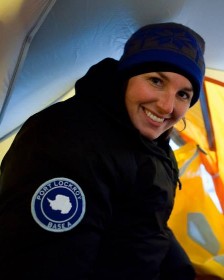 Lauren Farmer
Citizen Scientist
"By facilitating citizen science programs in Antarctica and the Arctic, I am doing my part to contribute to a better understanding of these regions. I also hope I am inspiring our guests to return home as ambassadors for the citizen science movement."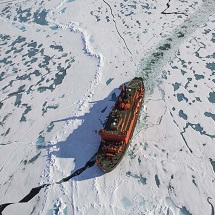 Where are you from?
I am originally from Australia, but grew up in the States and spent the past decade living in New York City. Now I mostly live a life at sea, but in my off-season my time is split between the Scottish Highlands and with my family in Canberra, Australia.
What do you do?
I come from a TV marketing background, but in 2013 transitioned to a career as a field guide in the polar tourism industry. Since then, I have worked seasonally in both polar regions on small 130-passenger expedition vessels for two tour operators.
I'm fortunate to travel regularly to the Antarctic Peninsula, South Georgia and the Falkland Islands, Svalbard, Greenland, Franz Josef Land and the top of the world, the Geographic North Pole.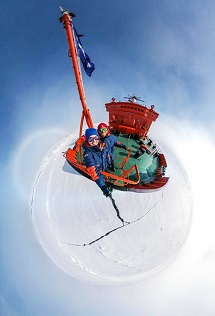 Beyond being a guide and sharing these wild, wonderful places with adventure travelers, I've become an ambassador for the growing citizen science movement, and am exploring avenues for our tour vessels to be utilized as platforms for science.
These efforts began in 2015 when Alex Cowan and I initiated a citizen science program onboard Russian icebreaker 50 Let Pobedy, which in the northern summer, journeys to the North Pole in repeat transects from Murmansk. This program partnered with the International Arctic Research Center and Dartmouth University. On their behalf, we collected sea-ice data including thickness, age, topography and degree of melt. A key element of this project was involving our guests in the data collection, as their holiday primarily funds our access to these regions. We believe their participation provides invaluable research and it makes for a richer travel experience.
Following this first experience, Alex and I were published in the American Geophysical Union's Eos in a project update titled, 'Citizen Scientists Train a Thousand Eyes on the North Pole.' Following that piece, we were contacted by the GLOBE Observer team to see if we'd be interested in recording cloud cover during our ventures into the polar regions.
How do you use GLOBE Observer?
We first began observing using the app during our Antarctic 2016-17 season. (Annette Bombosch initiated the program on another vessel.) During the Arctic 2017 season, we added GLOBE Observer to our sea ice program in the Arctic Ocean and began recording atmospheric data through the app.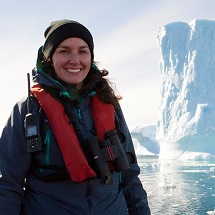 We successfully used the app at 90 degrees North which I assume is GLOBE's most northerly observation! Through our growing relationship with GLOBE, we have been in contact with a number of research scientists who are interested in partnering together in the future to launch weather balloons and/or deploy oceanographic buoys from our vessels.
How do you plan to use GLOBE Observer in the future?
Three other guides and I are proactively encouraging more expedition vessels to incorporate citizen science projects into their cruises by speaking at industry conferences and networking through various industry groups. We are calling this effort 'The Polar Citizen Science Collective', and GLOBE is a key project we are supporting. As such, we have added four new vessels for this Antarctic 2017-18 season, bringing the current total to six participating. We expect this enthusiasm to continue to grow and our hope is that in seasons to come, dozens of polar expedition vessels will be observing clouds for the GLOBE program.
Why is citizen science important to you?
Citizen science empowers seemingly ordinary people to do extraordinary things. Collectively, 'normal' citizens are able to collect huge amounts of data that will contribute to our understanding of the world. That's so exciting!
Citizen science is important to me because it combines three things I am passionate about: global coordination, accessible technology and the sharing of knowledge.
By facilitating citizen science programs in Antarctica and the Arctic, I am doing my part to contribute to a better understanding of these regions. I also hope I am inspiring our guests to return home as ambassadors for the citizen science movement.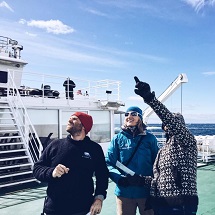 What advice do you have for people just getting into citizen science?
My main advice is that there is something for everyone. Whether you have a lot of time or very little, whether you are a trained academic or are a 'newbie' to science ... there is a citizen science project that will interest you and your involvement will be valued. A good place to start is the Zooniverse website, which has a number of easy citizen science projects you can participate in from your computer at home, including counting penguins in thousands of images captured remotely in Antarctica!
What do you do for fun?
Considering my 'office' can be a pristine, glistening glacier or a loud, boisterous penguin colony or the expansive, powerful sea ice of the Arctic Ocean … the lines between work and play are often blurred! I LOVE my job, and I can honestly say I have so much fun every single day. When I'm in my off-season, I like to go bike riding and hiking and visit breweries and wineries, but also to take time for myself with things like yoga and meditation.
What inspires you?
I'm inspired by the "Pay it Forward" mentality. My heart swells when I see or hear of someone going out of their way to help another, whether it's in a big or small way. No matter our circumstance, we all have the power to be kind, and you never know the magnitude of the effect it might have. I am inspired by family, friends and strangers who live their lives this way, as I try to do.
Any favorite quote(s) that you would like to share?
"Life is either a daring adventure or nothing at all." - Helen Keller
Comments