null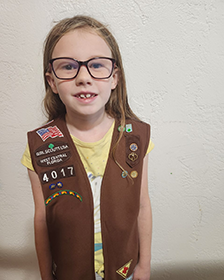 Elizabeth, an eight-year-old student citizen scientist from Florida in the United States, joined GLOBE in a video interview to discuss her passion for science and how she uses GLOBE Observer to explore her environment.
Elizabeth enjoys contributing to GLOBE as a citizen scientist. She was even one of our top observers (51 observations submitted!) in 2022's "NASA GLOBE Land Cover Challenge: Land in a Changing Climate." Elizabeth is a Girl Scout, and as a scout has actively participated in activities related to NASA. She even won the "Girl Scouts To the Moon and Back" essay contest.
For her hobbies, Elizabeth enjoys singing, coloring, and being a part of the Girl Scouts. It was the Girl Scout program which specifically introduced her to The GLOBE Program and using the GLOBE Observer app to take and submit observations.
As an active observer, Elizabeth's favorite part about the app is being able to visit the beach and take observations there. Elizabeth remembers how she took pictures from different viewpoints – up, down, and side to side – for her observations. Her mother, Tracy, then helped her upload the observations so they could be collected and used by scientists.
Speaking more in depth about her passion for science, Elizabeth shares her enthusiasm for space and animal life cycles. She recalls exciting visits to NASA, or the Kennedy Space Center in Florida.
She shares, "I like space because there's a whole world out there to explore!"
Regarding her love for animals, she is passionate about life cycles:
"I just like animals turning into big adults and then they have babies, then the life cycle starts over and over again," she states.
Elizabeth also explains that she likes science in general because it allows her to learn more about our world and about how to make it a better place.
Elizabeth concludes with her favorite motto, "Keep trying over and over again." She adds that she has even designed a shirt to spread the word!
Comments