null
Who Cares About Trees and Tree Height? We ALL Should!
10/31/2019
Who Cares About Trees and Tree Height? We ALL Should!
Trees seem to be just about everywhere on Earth, even in some very arid climates. Trees can be tall or short, or somewhere in-between.
A few facts about tree height:
Tree height is the number one indicator of how well an ecosystem can grow trees.
Tree height allows you to track the growth of trees over time.
Tree height allows NASA scientists to understand the gain or loss of biomass. This can inform calculations of the amount of carbon that trees and forests take in or release into the atmosphere.
According to the Pennsylvania State University's College of Agricultural Sciences, "Tree height is a function of desirable site conditions, species parameters, and competition. The goal for a tree is to develop its leaf surface area to maximize its ability to produce energy. Height allows trees to put their leaves above competitors or to maximize crown area (by layering and orienting leaves)."
An area that has a vast number of trees growing represents a rich and healthy ecosystem. An example of this is the campus of the California Polytechnic State University, San Luis Obispo, California. "This campus is home to 495 different tree species," according to Cal Poly San Luis Obispo Professor, Dr. Matthew Ritter.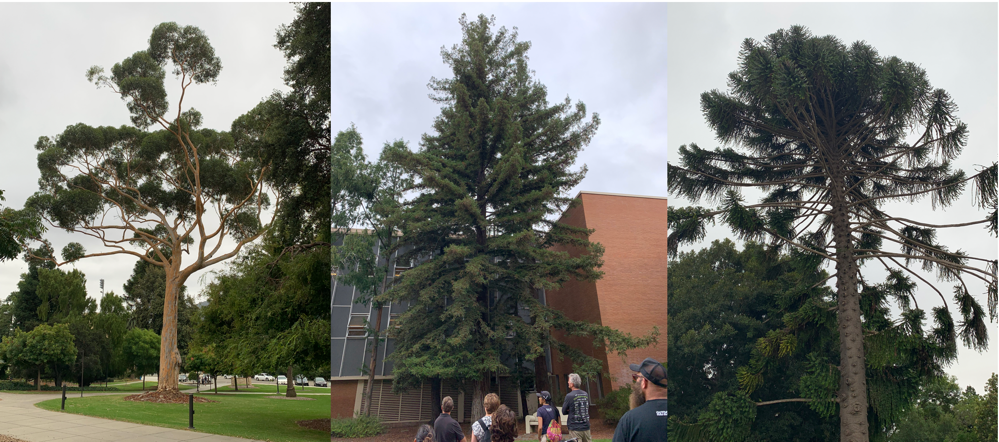 Examples of the diverse trees on the California Polytechnic State University, San Luis Obispo Campus. There are 495 species of trees on this California campus. Image Credit: Brian Campbell
Now that we have all these trees and we know that height matters, how can we measure the height of these trees?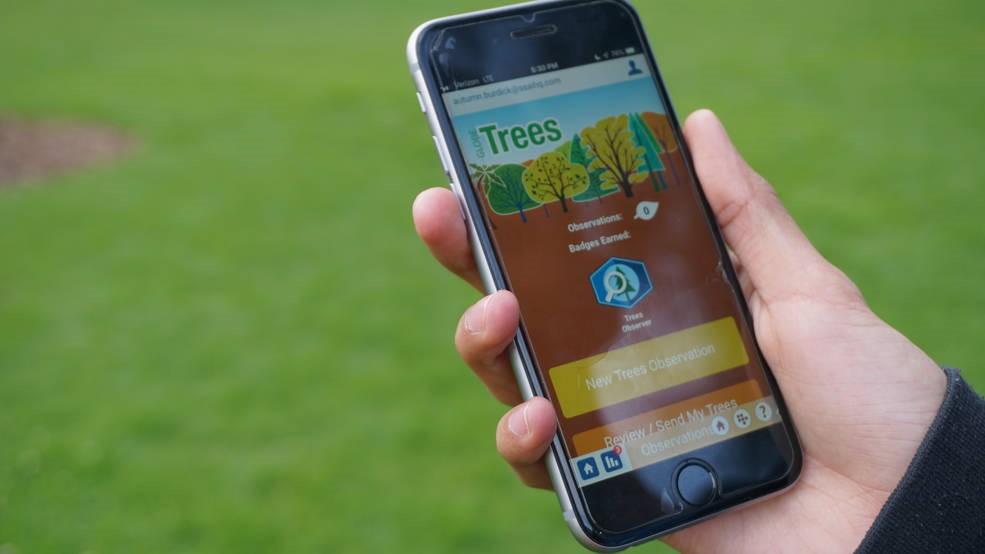 The Trees Tool on the NASA GLOBE Observer allows you to measure the tree height of small to large trees, worldwide. Image credit: NASA
The NASA GLOBE Observer has a Trees Tool that allows you to measure tree height with just your mobile device. Using the device's built-in magnetometer and gyroscope, the angles to the bottom and top of the tree can be calculated in order to find the tree height. With the GLOBE Trees Tool, tree height can be measured by tilting the phone up to align the screen with the tree's top branch and down to align with its base, then pacing off the distance to the tree. The app does the rest to calculate the tree's height. The Trees Tool is so simple to use. Why don't you try it today? How tall are your trees?
Brian Campbell (NASA Wallops/GST) is a NASA Senior Earth Science Outreach Specialist at the NASA Goddard Space Flight Center's Wallops Flight Facility in Wallops Island, Virginia USA. Brian is also the Trees Around the GLOBE Student Research Campaign Lead and the Trees Science Lead for the NASA GLOBE Observer citizen science program. Brian works with local to international students in over fifty countries.
Comments