null
New Features on the GLOBE Observer App are Now Available!
07/12/2021
We're happy to announce that a long-term project has come to conclusion.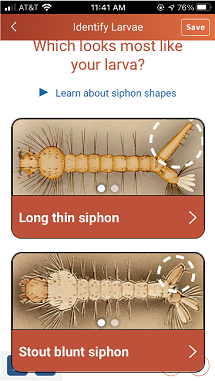 Monday, 12 July marked the release of a number of changes and additions to the GLOBE Observer app. For GLOBE Observers, the app includes a redesign of the Mosquito Habitat Mapper app (in time for the upcoming Mosquito Habitat Photo Challenge – 25 July to 25 August). New features include a more visual larva identification key that will make it easier to determine if the larvae are one of three types of mosquitoes that most often transmit disease.
GLOBE Observer can now also be connected to SciStarter for those who track their citizen science contributions across multiple citizen science projects with this online citizen science hub. Available under the settings icon, you can log in to SciStarter from GLOBE Observer, and all of your GLOBE Observer measurements will be credited to your SciStarter account.

We hope you enjoy the new capabilities and features. Please send your thoughts, comments or issues to the helpdesk at globehelp@ucar.edu.
Comments