null
NASA GLOBE Observer's Weekly Roundup: 5-11 March 2017
03/11/2017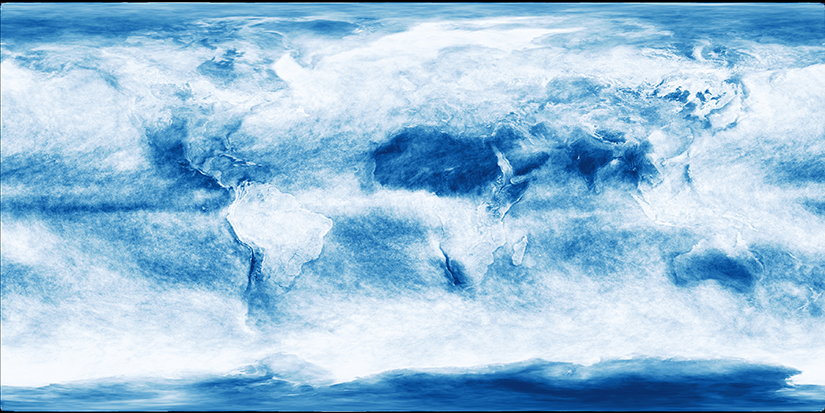 Cloud fraction, a broadcast and spring forward -- this and more in this week's roundup.
1. IMAGE OF THE WEEK: The image above is from the MODIS instrument on board the Aqua satellite and shows all of the clouds seen during the month of February (2017).
You can access daily and monthly imagery of the Earth and its clouds in the link below. Why not try comparing "Cloud Fraction" across the months to see which was the cloudiest.
2. LIBRARIES: Libraries and librarians: In preparation for Earth Day 2017, you can join a professional development webinar this Wednesday at 1 pm MT and learn all about how your patrons can contribute significant science to NASA by using the NASA GO app.
Jessica Donnelly Taylor, Sarah McCrea and Dorian Janney will be presenting.
3. FACEBOOK LIVE: Join us on Thursday, 9 March at 5:30 p.m. EST (2:30 p.m. PST) for a Facebook Live Q&A on what's new with NASA's GLOBE Observer App. NASA Langley's Sarah McCrea and Bryan Fabbri will be presenting and answering your questions LIVE via the NASA Earth Facebook account. We will also be sharing the broadcast on the @NASAGO Facebook and Twitter accounts.
4. DAYLIGHT SAVINGS It's that time of year again. If you live in the United States, Daylight Saving Time starts at 2 a.m. on 12 March 2017. You can get a head start and turn your clock back one hour at bedtime on Saturday night.
Your phone will do this automatically for you, so no need to worry about satellite flyover times while using the GLOBE Observer Clouds app after Saturday.
5. WEEKLY VIDEO: See last week's favorite cloud observation submissions from around the world on our Facebook page. And don't forget to share your favorite photos with us by tagging us on Facebook and Twitter: #NASAGO.
Comments