null
NASA GLOBE Observer's Weekly Roundup: 26 March- April 1 2017
04/01/2017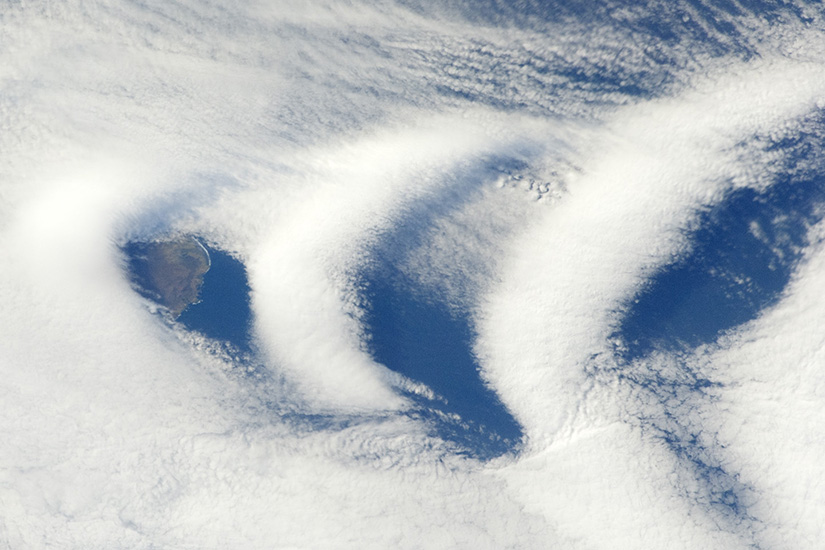 NASA observes Earth's clouds on a daily basis and began doing so in 1960. It happens that this week marks the anniversary of the launch of the first satellite sent to observe clouds from space. This and more in this week's roundup.
1. IMAGE OF THE WEEK: This astronaut photograph taken five years ago (25 March 2012) illustrates the formation of wave clouds in the wake, or downwind side, of Île aux Cochons ("Pig Island") in the southern Indian Ocean.
"The summit elevation is high enough for the land surface to interact with cloud layers and with winds flowing past the island. In this image, two cloud layers are visible. The lower, more uniform layer consists of roughly parallel 'cloud streets that suggest the winds blowing out of the west. When air masses run into the summit of Île aux Cochons, moisture-laden air rises and cools, causing water vapor to condense into clouds."
2. FIRST: 57 years ago on 1 April 1960, TIROS-1 launched to become the first satellite designed to observe clouds from space.
"The satellite carried two tiny television cameras, each weighing about two pounds. One camera captured a wide view of the Earth about 450 miles below, while the other recorded a narrower, more detailed view."
3. PERSPECTIVE: Clouds are always changing and changing very quickly. "Outer space is an ideal perspective from which to observe and measure changes on our home planet as they happen." Learn more about this by reading the feature linked to in the below.
4. NASA AUTHORIZATION ACT: Perspective. Our view of the planet, of the solar system, of solar systems near and far, and beyond, is informed and inspired by missions of discovery.
Did you watch the President's weekly address on Saturday (25 March) where he spoke about NASA's legacy and the upcoming James Webb Space Telescope? This video also shows the President signing the NASA Authorization Act.
5. WEEKLY VIDEO: See last week's favorite cloud observation submissions from around the world on our Facebook page. And don't forget to share your favorite photos with us by tagging us on Facebook and Twitter: #NASAGO.
Comments