null
NASA GLOBE Observer's Weekly Roundup: 17-23 September 2017
09/23/2017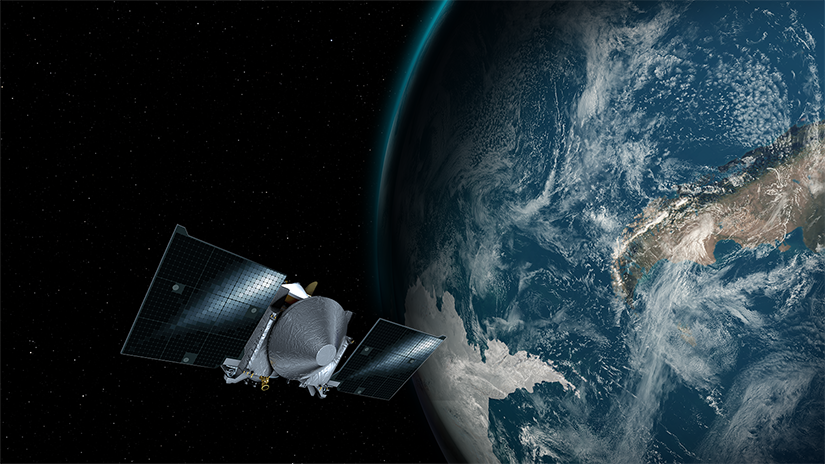 Map some mosquitoes, celebrate the start of fall and perhaps even wave to a spacecraft -- this and more in this week's edition of the roundup.
1. IMAGE OF THE WEEK: The above image is an artist's rendition of the OSIRIS-REx spacecraft adjacent to a cloudy Earth. You can wave to this spacecraft this coming Friday.
"On Sept. 22, NASA's OSIRIS-REx (Origins, Spectral Interpretation, Resource Identification, and Security – Regolith Explorer) spacecraft will make a close approach to Earth, using the planet's gravity to slingshot itself toward the asteroid Bennu. Over the course of several days, observatories and amateur astronomers with specialized equipment will be able to see OSIRIS-REx as the spacecraft approaches and retreats from its closest position over Earth, approximately 11,000 miles (17,000 km) above the planet's surface.
Members of the public without telescopes can still celebrate the Earth Gravity Assist by joining the 'Wave to OSIRIS-REx' social media campaign. Individuals and groups from anywhere in the world are encouraged to take photos of themselves waving to OSIRIS-REx, share them using the hashtag #HelloOSIRISREx and tag the mission account in their posts on Twitter (@OSIRISREx) or Instagram (@OSIRIS_REx)."
Keep reading and learn more in the below.
2. MAPPING: How has your mosquito habitat mapping been going? See a lot of mosquitoes where you live? Or none at all? We want to know. Use the app this week and explorer the world around you. You can check out our newly released information video regarding the Mosquito Habitat Mapper -- just came out on September 16th.
3. AUTUMN: Fall starts on Friday, September 22nd. I love the fall, and not just because I am named after it. The fall months are the months where, I think, we see the most beautiful clouds.
Be sure to share with us your cloud photos (you can share with us your favorite photos by tagging us on Facebook or Twitter -- just use #NASAGO). Can wait to see some golden-tinged and fiery sunsets in next week's video.
4. ECLIPSE: Analysis of the eclipse experiment is progressing. So many interesting data sets. Hoping to share these with you all soon, so stay tuned for that. And thank you once again to all that participated on August 21st and to those that continue to make observations using the GO app. Thank you.
5. WEEKLY VIDEO: See cloud observation submissions from the past week on our Facebook page (link below).
Comments