null
NASA GLOBE Observer's Weekly Roundup: 15-21 January 2017
01/21/2017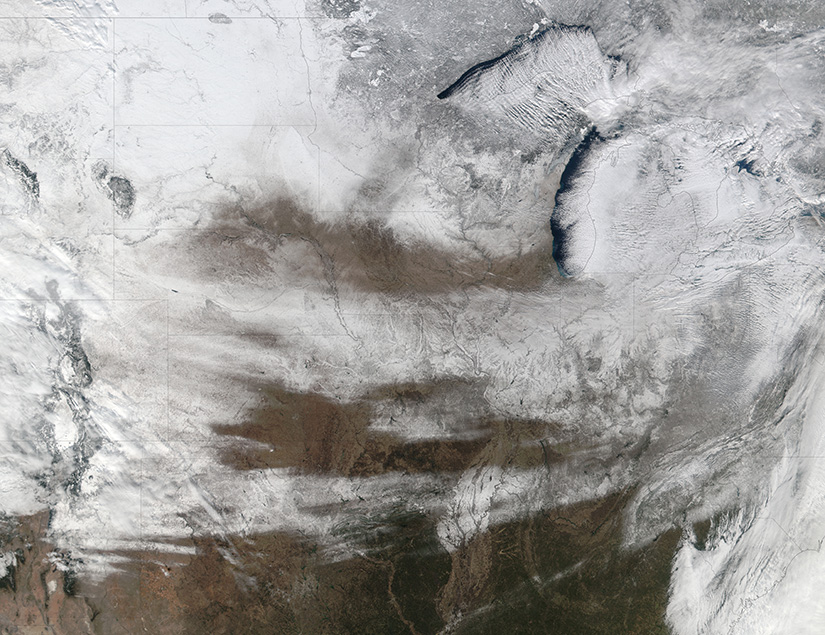 Winter is in full swing around the world and whether you live in the Northern or Southern Hemisphere, no doubt you are experiencing lots of weather, be it rain, snow, high winds, or just plain hot.
Weather and more in this week's roundup.
1. IMAGE OF THE WEEK: What looks like clouds in the above image, is in fact snow. The United States was blanketed in snow last week.
"Most states received a dusting, though there were blizzard-like conditions in some areas, USA Today reported. The Visible Infrared Imaging Radiometer Suite (VIIRS) on the Suomi NPP satellite captured this image."
2. SHAPES: Snowflakes form in clouds, but what shape they take depend on the environment and conditions. Learn how one scientist is creating "designer snowflakes" in the lab in the Science Friday video linked to in the below.
3. SHOWERS: Parts of California received a lot of rain last week and the showers should continue this next week week as well. This rain is arriving from the west via an "atmospheric river:"
"Stretching tens to hundreds of kilometers wide, atmospheric rivers are literally jet streams of moist air. According to the National Oceanic and Atmospheric Administration, the most potent atmospheric rivers can carry an amount of water vapor equivalent to 7.5 to 15 times the flow at the mouth of ..." Keep reading in the link below.
4. HURRICANE SEASON: Australia is currently experiencing thunder storms.
The hot months of the Southern Hemisphere's winter is prime time for hurricanes. The accuracy of hurricane predictions have improved so much since the dawn of the space age. Watch how NASA studies hurricanes from orbit in the video below.
5. YOUR PHOTOS: See last week's favorite cloud observation submissions from around the world on our Facebook page. And don't forget to share your favorite photos with us by tagging us on Facebook and Twitter: #NASAGO.
EXTRA: This week (18 January) is also the 135th anniversary of the birth of author A. A. Milne. His beloved children's book character Winnie-the-Pooh had this to say about clouds in the first chapter of the book of the same name:
"'How sweet to be a Cloud
Floating in the Blue!'
Every little cloud
Always sings aloud.
'How sweet to be a Cloud
Floating in the Blue!'
It makes him very proud
To be a little cloud."
Follow us on Facebook and Twitter for the latest from NASA GLOBE Observer.
Comments