null
NASA GLOBE Observer's Weekly Roundup: 10-16 December 2017
12/16/2017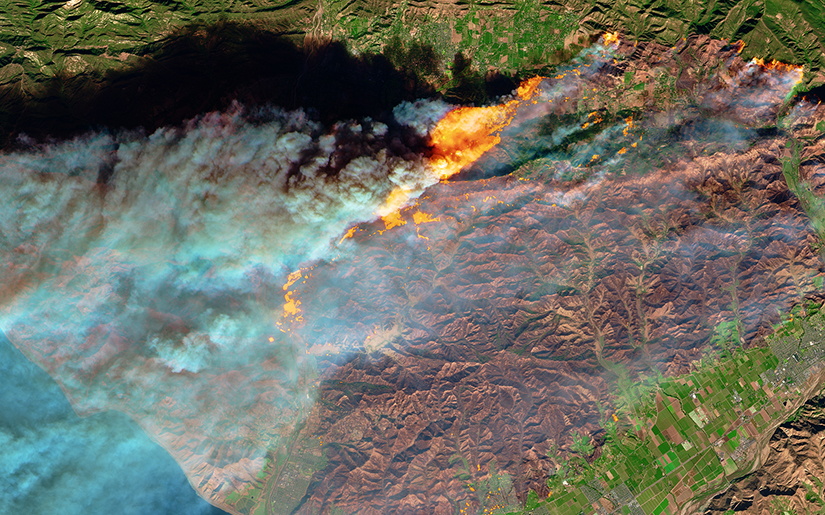 So many happenings to think about -- this and more in this week's edition of the roundup.
1. IMAGE OF THE WEEK: Several fires are currently raging in California (as of Thursday, December 7, 2017). Dry weather and seasonal Santa Ana winds caused prime conditions this past week. Many have been affected, freeways have closed and air quality is terrible. Please keep the people of California in your thoughts. Satellites up in space have also been viewing and monitoring the fires in California.
"The Multi Spectral Imager (MSI) on the European Space Agency's Sentinel-2 satellite captured the data for a false-color image (below) of the burn scar. Active fires appear orange; the burn scar is brown. Unburned vegetation is green; developed areas are gray. The Sentinel-2 image is based on observations of visible, shortwave infrared, and near infrared light."
2. AGU: The American Geophysical Union's (AGU) Annual Fall Meeting will take place this week in New Orleans. This is the largest Earth and space science meeting in the world. Several members of the NASA GO team will be at this year's meeting, and if you are planning on attending you should stop by the NASA booth and say hello. Also check out our presentation on mosquito-borne disease prevention and citizen science during our talk on Tuesday, December 12. More information in the second link below.
3. ECLIPSE SCIENCE: Tune in to the AGU and NASA for the latest about this past summer's eclipse on Monday, December 11th at 11:30 a.m. CST.
4. METEOR SHOWER: The Geminids will peak this week (night and morning of December 13/14).
"The Geminids are considered to be one of the best and most reliable annual meteor showers. During its peak, 120 Geminid meteors can be seen per hour under perfect conditions. The Geminids are bright and fast meteors and tend to be yellow in color."
5. WEEKLY VIDEO: And of course, we do want to share with you our favorite cloud observation submissions from the past week. Thank you for sharing with us your observations from all around the world.
Comments