null
GO on a Trail and Earn Challenge Points
06/10/2019
Are you participating in our GO on a Trail Challenge? To join, just use your GLOBE Observer app to take as many land cover observations as you can. You can get points toward winning two ways: collect observations on the Lewis and Clark Trail or collect observations in any GLOBE country.
Earn Points on the Lewis and Clark Trail
Participants can earn points three different ways along the trail.
To collect the maximum number of points for a single observation (four points), you can visit the observation stations marked with a large sticker at Lewis and Clark visitor centers and museums along the almost 5,000-mile long trail that goes from Pittsburgh, Pennsylvania, to the mouth of the Columbia River in Washington State.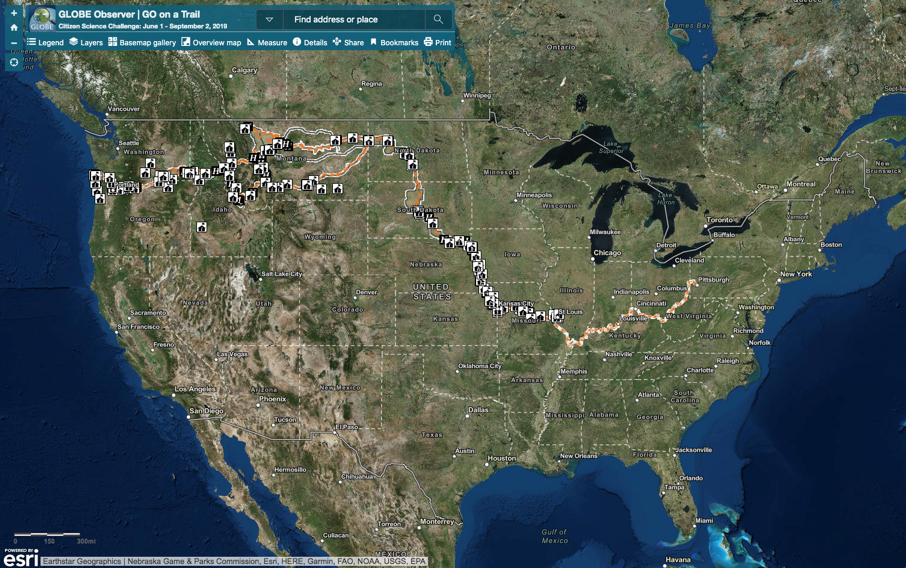 Once you are standing on the observation station, use the GLOBE Observer app's Land Cover tool to take six photos –north, south, east, west, up, and down– of the landscape around you and indicate what you see on the ground in each image: from grass to trees to asphalt. When taking the down photo, make sure you include the sticker in your image. This will provide multiple repeat observations of those locations, so that researchers can determine whether the app is consistent in its measurements.
Trail visitors can also earn two points by mapping land cover at designated historic sites along the trail.
"These are going to be places along the trail that are closer to what Lewis and Clark would have experienced 200 years ago than other parts of the trail," said Ryan Cooper, geographer at the Lewis and Clark National Historic Trail. "Information at these locations will provide insight into the environmental changes that have occurred elsewhere over the past two centuries."
Finally, you can earn one point by mapping land cover anywhere else along the route that Lewis and Clark traveled. Since the route is not an existing single road or trail, the GLOBE Observer team has defined an area around the historic and auto trails in which observations will be accepted. While any land cover observation in this area will receive a point, observations that match with satellite observations are most useful. The challenge trail map includes the approximate center of each satellite (Moderate Resolution Imaging Spectroradiometer (MODIS) land cover pixel along the trail. By collecting observations that can be spatially matched to the satellite image, participants are making it simpler for scientists to correlate ground and satellite-based maps.
To help you navigate to each of these sites, the Lewis and Clark National Historic Trail and GLOBE Observer teams have provided an online map.
Earn Points Around the Globe
Those who aren't able to visit the Lewis and Clark National Historic Trail this summer can still join the GO on a Trail challenge from any of the more than 120 countries where GLOBE Observer is active by going outdoors and mapping the land cover around them. You can take as many land cover observations as you like, but only one observation per location will count in their point total. Each observation should be separated by at least 330 feet (100 meters).
Remember:
Leave no trace, take only observations.
Go on a trail and stay on it. By staying on marked trails, you are protecting sensitive ecosystems and reducing your risk of coming into contact with dangerous plants and animals.
Respect private property. Please do not trespass while taking observations.
At the end of the challenge (September 2, 2019), we will add up all of the points to determine the winners. Ten people will win for observations along the Lewis and Clark Trail. We will select at least one winner from each GLOBE region and additional overall winners for the global component of the challenge. Winners will receive recognition and GO on a Trail commemorative material. Good luck!
Comments