null
Become an Armchair Cloud Expert and Help NASA Scientists Along the Way
08/10/2021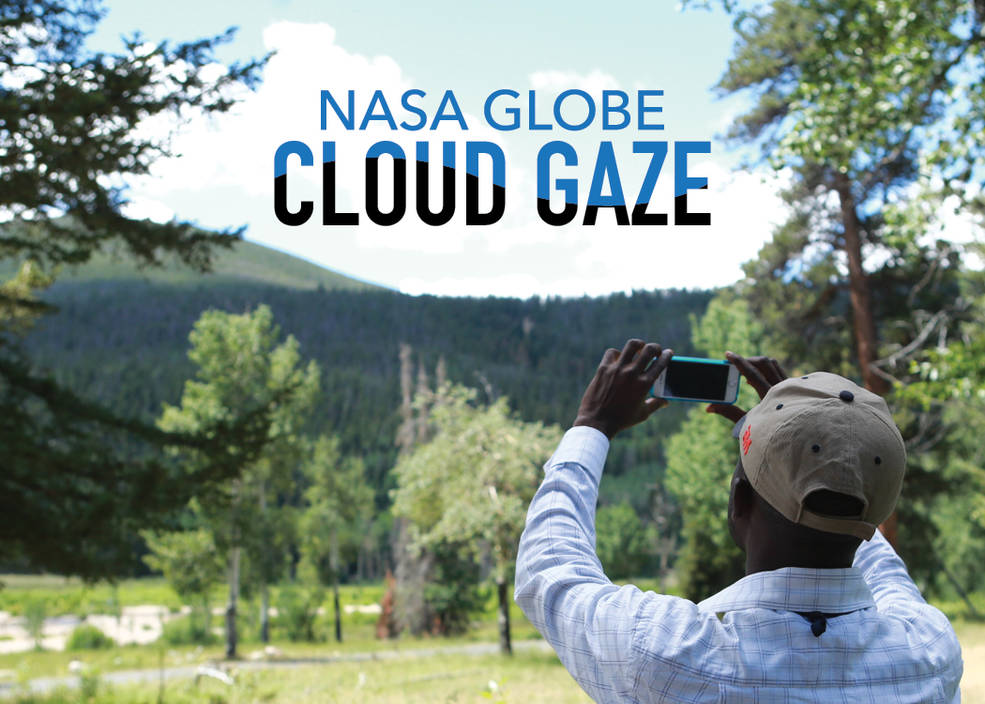 Would you like to help NASA scientists advance their understanding of Earth's atmosphere and climate from the comfort of your own home?
The Zooniverse's people-powered research platform and the NASA-sponsored GLOBE Program (Global Learning and Observations to Benefit the Environment) have partnered to form CLOUD GAZE (Community science project Leveraging Online and User Data through GLOBE and Zooniverse Engagement).
NASA GLOBE CLOUD GAZE allows citizen scientists to look at cloud photographs submitted to GLOBE by students, teachers and the general public through the program's GLOBE Observer app and identify elements such as the presence or absence of clouds, dust storms, smoke plumes and haze layers. In addition, participants can identify cloud types and point out any other noteworthy observations — all by simply visiting the CLOUD GAZE project on the Zooniverse online platform.
Why Does it Matter?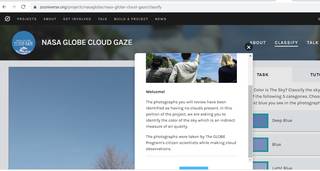 Information gathered from CLOUD GAZE will be merged with GLOBE cloud observations and matched to information from multiple satellites to create data quality flags and make the cloud data more usable for research by atmospheric scientists at NASA. CLOUD GAZE launched in July 2021.
"All you have to do is check out a couple of quick tutorials and then get to work — except that this doesn't feel at all like work," said Marilé Colón Robles, principal investigator for CLOUD GAZE and the NASA GLOBE Clouds lead at NASA's Langley Research Center in Hampton, Virginia. "You're looking at pictures of clouds, after all. It's actually a nice break from work, and maybe even a little addictive."
But this is serious fun.
All along researchers have been looking for good data quality with data submitted by citizen scientists — so working Zooniverse into that equation made perfect sense. Researchers wanted to create data quality flags for observations submitted through The GLOBE Program — so working with Zooniverse made perfect sense, because it creates an opportunity for users to tag additional information in the images. It essentially blends the strengths of the two programs — Zooniverse participants have an eye for the details and GLOBE participants are experts at making observations of their environment.
The bonus with CLOUD GAZE is that it offers an easy way for folks who may have limitations on where they can go (especially with threat of COVID) to make a meaningful contribution to science.
"The concepts we will learn from CLOUD GAZE will be a model for assuring and documenting data quality for present and future citizen science projects. This is of utmost importance as scientists integrate more citizen science data into their research projects," said Colón Robles.
CLOUD GAZE was made possible by a NASA grant from the Citizen Science for Earth Systems Program. The project's science steering committee includes 13 scientists from different NASA centers, the National Oceanic and Atmospheric Administration and university professors.
NASA has a wide variety of citizen science collaborations across topics ranging from Earth science to the Sun to the wider universe. Anyone in the world can participate. More information about NASA citizen science can be found at https://science.nasa.gov/citizenscience.
NASA sponsors The GLOBE Program with support from NOAA, the U.S Department of State, and NSF. This is an international science and education program that provides students and the public with the opportunity to participate in data collection and the scientific process. NASA GLOBE Observer is a free smartphone and tablet app that lets anybody in the more than 125 GLOBE countries make and submit cloud, mosquito habitat, land cover and trees observations from the palm of their hand.
Joe Atkinson
NASA's Langley Research Center
Reproduced from this original post
Comments