null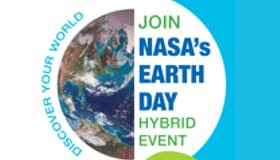 NASA's Earth Day Event 2023
Date: 04/20/2023 - 04/21/2023
Join NASA's Earth Day Hybrid Event and discover your world with NASA!
Visit the online platform for exhibits and information you can access whenever you'd like (available on-demand through 05 May, 2023).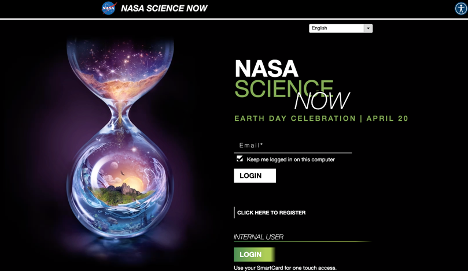 On 20 April, there will also be two live webinars:
Webinar One: Discover your World and Beyond
1:00-1:50 pm ET/10:00-10:50 am PT
1:00-1:10 pm ET: Dr. Kevin Murphy, NASA's Science Mission Directorate Chief Science Data Officer and Current Earth Science Data Systems Program Executive
1:10-1:20 pm ET: Dr. Lori Glaze, Director of NASA' Planetary Science Division
1:20-1:30 pm ET: Dr. Mark Clampin, Director of NASA's Astrophysics Division
1:30-1:40 pm ET: Dr. Diane Malarik, Acting Director of NASA's Biological and Physical Sciences Division
1:40-1:50 pm ET: Ask NASA Science: Earth Day Q&A with NASA Experts
Webinar Two: Earth Day Celebration
2:00-2:50 pm ET/11:00-11:50 am PT
2:00-2:05 pm ET: Dr. Katherine Calvin, NASA Chief Scientist and Senior Climate Advisor
2:05-2:15 pm ET: Dr. Kelly Korreck, NASA Heliophysics Program Manager
2:15-2:20 pm ET: Dr. James Free, Associate Administrator for NASA's Exploration Systems Development Mission Directorate

Katherine Rohloff, Press Secretary for the NASA SMD Associate Administrator (moderator)

2:20-2:35 pm ET: Earth, Sun and Moon Trivia with Kahoot!
2:35-2:50 pm ET: Earth at Night Trivia with Kahoot!
And if you happen to be in the Washington, D.C. area, join us for an in-person event in the Main Hall at Union Station, 20-21 April, 9:30 am to 4:00 pm ET daily.
Comments