null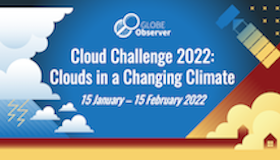 Cloud Challenge 2022: Clouds in a Changing Climate
Date: 01/15/2022 - 02/15/2022
Did you know that clouds can both warm and cool our planet? Keeping an eye on clouds helps NASA study our climate. We need your help capturing data about clouds where you live! The Global Learning and Observations to Benefit the Environment (GLOBE) Program invites you to take part in our upcoming Cloud Challenge: "Clouds in a Changing Climate."
There are two ways to contribute to this citizen science effort:
(1) Submit your own cloud observations using The GLOBE Program's GLOBE Observer app. (Remember to always be safe and follow local guidelines while observing.) If you can, try to make observations during satellite overpasses, and help us reach our goal of 20,000 satellite matches during the challenge!
(2) You can also participate from the comfort of your home through NASA GLOBE CLOUD GAZE new window. Using this project on the Zooniverse online platform, you can identify cloud types and other phenomena in photos taken by GLOBE participants.
Comments