2020 Community Cloud Challenge: Science is Better Together
15 July 2020 to 15 August 2020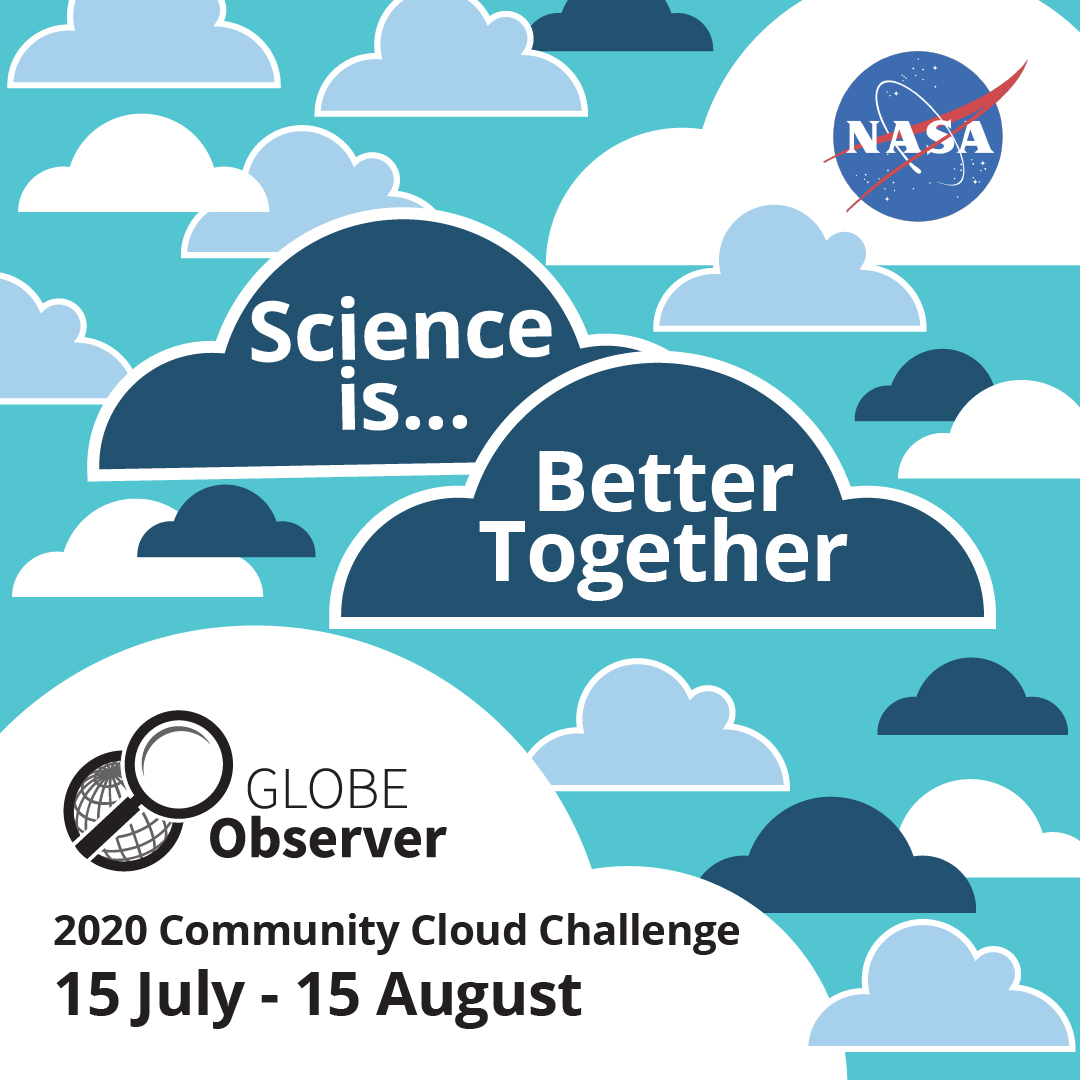 Short link to this page: https://observer.globe.gov/cloud-challenge-2020
Who can participate: Everyone! (students and teachers at all grade levels, informal educators, and the public in GLOBE countries)
How to Participate: Spend summer (or winter if you're in the Southern Hemisphere) together by discovering clouds from a new perspective. There are many ways to participate. Learn more about clouds with NASA scientists and educators each Thursday on NASA Earth's Facebook page, do at-home activities, or take cloud or sky observations through the Clouds tool on GLOBE or the GLOBE Observer app. It is all up to you! Show how you took part in this unique event by sharing on social media.
The 2020 Community Cloud Challenge has concluded. Download a badge, shareables (square and rectangular), and a customizable certificate (PDF) to celebrate your participation. Print or share on social media, and thanks for joining in! Read the challenge summary news article for a wrap-up of the event and a thank you video for participants.
Challenge Weekly Themes
Every Thursday you will get a chance to learn more about clouds from NASA scientists. Watch the video premiere on Facebook (@NASAEarth) at 9:00 PT/12:00 ET (16:00 UTC) and ask questions in the comments. Each week will also feature an activity that can be done at home. Click each topic below to learn more, and find a link to the videos once they are premiered. NOTE: Due to the Mars Perseverance launch on July 30th, the video that week will be premiered on July 31st instead.
Playlist of Previous Videos:
Cloud Challenge - Activities Header
Choose Your Participation Options: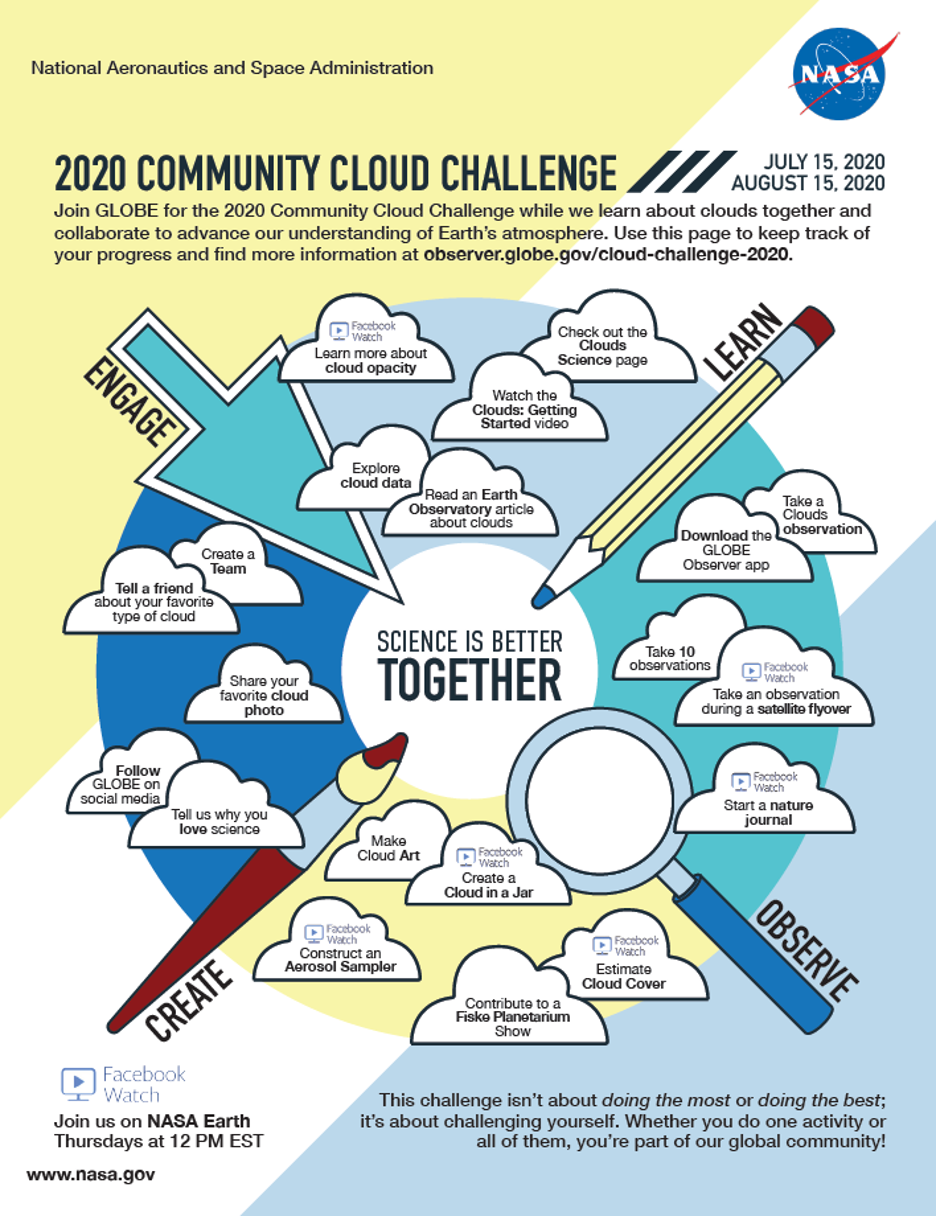 Cloud Challenge 2020 Activity Tracker
The cloud activity tracker will help you keep a log of how you participate in the challenge. See the list below for more details about each of the options on the page.
Cloud Challenge 2020 - Activities List
Learn about clouds:

Create with clouds:
The weekly Cloud Challenge video will feature an activity related to the topic discussed by the NASA scientist, and we have some additional suggestions below. If you're looking for even more activities, check out our full Clouds Resource Library.
Create a "Cloud in a Jar" (versión en español, "La Nube en un Frasco")
Create a cloud collage and practice estimating cloud cover (versión en español, practicar la estimación de la cobertura de nubes)
Construct an aerosol sampler with the "Up in the Air" activity (versión en español, "En el Aire")

Engage with the cloud observer community:
As you complete activities or take observations, share your results with us through social media using #CloudChallenge or by tagging GLOBE.
Observe clouds:
As you're taking cloud and sky observations, be sure to think safety first! Just like NASA scientists, we ask that you always be safe and follow your local regulations. Taking observations is optional for this event. Help by submitting clouds, dust, haze or smoke observations to GLOBE using any of GLOBE's data entry tools including the Clouds tool on the GLOBE Observer mobile app. GLOBE welcomes citizen scientists, educators, students and STEM professionals. Create an account on the GLOBE Getting Started page or in the GLOBE Observer app.