What is GLOBE Observer: Clouds?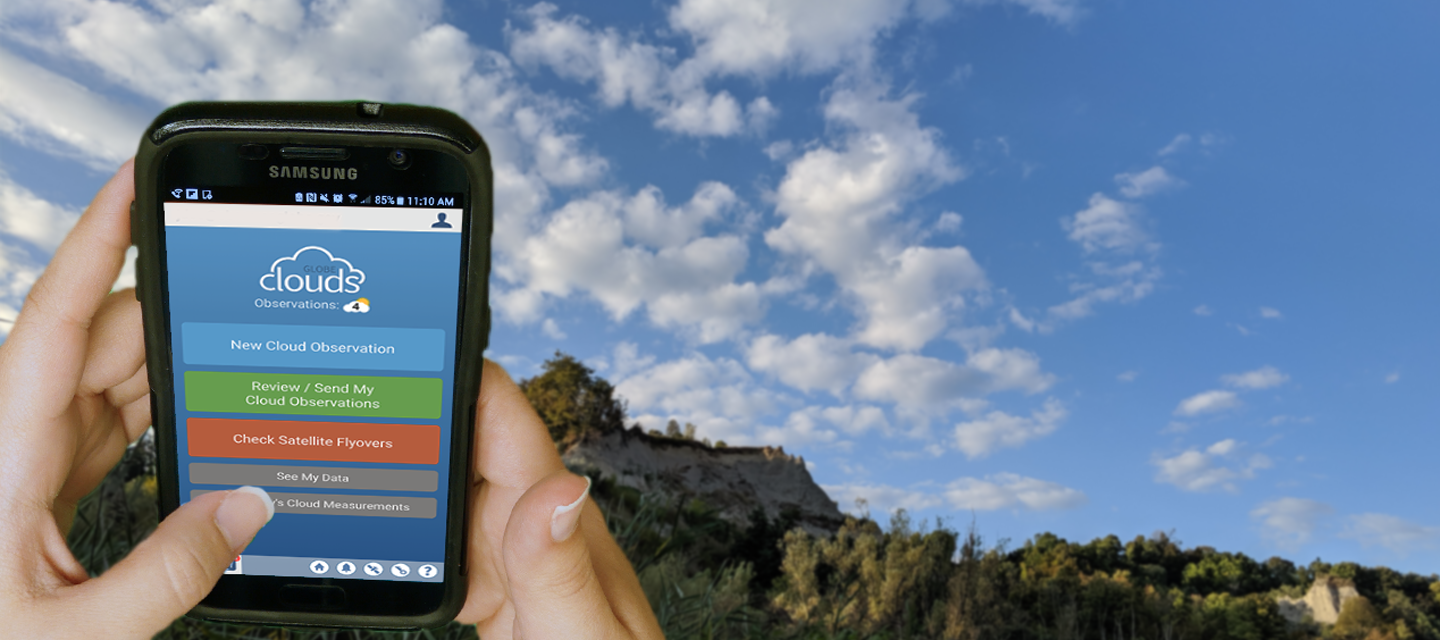 GLOBE Observer: Clouds is an app-based tool that will help you document what you see in the sky. Once you have downloaded the app and created an account, the Clouds tool (including the Clouds Wizard if you wish to use it) will guide you through the observation process. Required data includes providing your location, reporting on overall cloud cover and surface conditions that can impact satellite observations. Optional (but very useful) data include cloud types, cloud opacity, sky conditions and visibility, then taking photos of what you see in the sky. Even a basic observation without optional elements is valuable! For more details about how to take observations, including tips and tricks, additional tutorials beyond what is in the app, and frequently asked questions about how to observe, visit the Taking Observations page. Our Resource Library includes additional activities, references, videos and book lists.
Why are my observations important?
Clouds are a major component of the Earth's system that reflect, absorb, and scatter sunlight and infrared emissions from Earth. This affects how energy passes through the atmosphere. Different types of clouds have different effects, and the amount of cloud cover is also important. Clouds can change rapidly, so frequent observations are useful to track these changes. Such observations are able to see change over time and help with interpretation of satellite cloud data. Learn more about the science of clouds, and how NASA studies them, on the Clouds Science page.
Satellite Matching
Clouds observations matched to satellite overpasses are especially helpful. Within the app, you can check the timing of satellite flyovers for your location, and set notifications to remind you to go make an observation. Learn more about satellite matching of your observations on the Clouds Science page.
Student Research
In addition to research done by professional scientists, because GLOBE Observer is part of the GLOBE Program, which is active in thousands of schools across the world, citizen scientists are strengthening science education by providing data for student research.