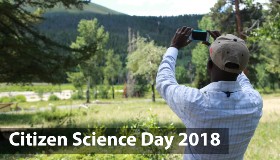 04/14/2018
Citizen Science Day 2018
Citizen Science Day celebrates the contributions of citizen scientists to a variety of STEM fields and empowers citizens to use science to gain a better understanding of the world around them. Join organizations from around the world celebrating the power of citizen science, for Citizen Science Day 2018 on April 14th, 2018.
>>
03/23/2018
Facebook LIVE: World Met Day
Join the World Meteorological Organization (WMO), the GLOBE Program, and NASA GLOBE Observer for a Facebook LIVE on World Met Day. Tune in Friday, March 23rd at 2:30 p.m. UTC. to learn about weather, clouds and citizen science with Jessica Taylor and Marilé Colón Robles of NASA Langley, and Secretary-General Petteri Taalas of the WMO.
>>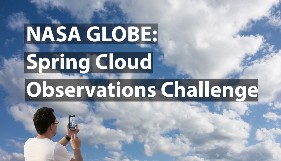 03/15/2018
Spring Clouds Challenge
Head in the clouds? This spring, challenge yourself and enter your cloud data using the NASA GLOBE Observer app or The GLOBE Program. You could win a video shout out from a NASA scientist if you're one of the top observers between 15 March - 15 April.
>>