NASA Missions
Aqua, Latin for water, is a NASA Earth Science satellite mission named for the large amount of information that the mission is collecting about the Earth's water cycle, including evaporation from the oceans, water vapor in the atmosphere, clouds, precipitation (rain and snowfall), soil moisture, sea ice, land ice, and snow cover on the land and ice. Aqua carries a slew of instruments, including AIRS, AMSU, CERES, MODIS, and AMSR-E.
Each instrument on Aqua performs a specific function. These include:
The Cloud-Aerosol Lidar and Infrared Pathfinder Satellite Observation (CALIPSO) satellite provides new insight into the role that clouds and atmospheric aerosols (airborne particles) play in regulating Earth's weather, climate, and air quality. CALIPSO probes the vertical structure and properties of thin clouds and aerosols over the globe. CALIPSO was launched on April 28, 2006 with the cloud profiling radar system on the CloudSat satellite. CALIPSO and CloudSat are highly complementary and together provide new, never-before-seen 3-D perspectives of how clouds and aerosols form, evolve, and affect weather and climate. CALIPSO and CloudSat fly in formation with three other satellites in the A-train constellation to enable an even greater understanding of our climate system from the broad array of sensors on these other spacecraft.
http://www.nasa.gov/mission_pages/calipso/main/index.html
NASA launched the CloudSat and the Cloud-Aerosol Lidar and Infrared Pathfinder Satellite Observation (CALIPSO) spacecraft to study the role that clouds and aerosols play in regulating Earth's weather, climate and air quality. The satellites fly in orbital formation as part of the "A-Train" constellation of three other Earth Observing satellites including Aqua, and Aura. Together, the A-Train satellites are increasing our understanding of the climate system and the potential for climate change. Scientists are improving their understanding of Earth's climate system, but many questions remain. CloudSat and CALIPSO are collecting information about the vertical structure of clouds and aerosols unavailable from other Earth observing satellites. The data they gather continuously improve our models and provide a better understanding of the human impact on the atmosphere.
http://cloudsat.atmos.colostate.edu/home
Aura's instruments measure trace gases in the atmosphere by detecting their unique spectral signatures. MLS observes the faint microwave emissions from rotating and vibrating molecules. HIRDLS and TES observe the infrared thermal emissions also due to molecular vibrations and rotations. OMI detects the molecular absorption of backscattered sunlight in the visible and ultraviolet wavelengths. Aura flies in formation about 15 minutes behind Aqua in the "A-Train" satellite constellation which consists of several satellites flying in close proximity. Each individual mission has its own science objectives; all will improve our understanding of aspects of the Earth's climate. The synergism that is expected to be gained by flying in close proximity to each other should enable the overall science results of the Afternoon Constellation to be greater than the sum of the science of each individual mission.
The Suomi National Polar-orbiting Partnership (NPP) represents a critical first step in building this next-generation Earth-orbiting satellite system. Suomi NPP orbits the Earth about 14 times each day and observe nearly the entire surface. The NPP satellite continues key data records that are critical for climate change science.
The five instruments manifested for flight on the Suomi NPP spacecraft trace their heritage to instruments on NASA's Terra, Aqua and Aura missions, on NOAA's Polar Operational Environmental Satellite (POES) spacecraft, and on DOD's Defense Meteorological Satellite Program (DMSP).
The five instruments are:
https://jointmission.gsfc.nasa.gov
How is Earth changing and what are the consequences for life on Earth? In December 1999, NASA launched the Terra satellite as the flagship mission of the Earth Observing System to answer these questions.
Terra carries five instruments that observe Earth's atmosphere, ocean, land, snow and ice, and energy budget. Taken together, these observations provide unique insight into how the Earth system works and how it is changing. Terra observations reveal humanity's impact on the planet and provide crucial data about natural hazards like fire and volcanoes. See Terra science.
Terra is an international mission carrying instruments from the United States, Japan, and Canada. These five instruments are:
Did you Know?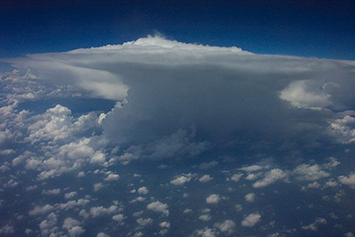 Side View of Cumulonimbus Anvil
This striking photograph was taken from an airplane window - good thing they decided to go around! It shows the classic ""anvil"" shape that a thunderstorm takes. This shape arises from the lifting of air in the cloud right up to the tropopause, at which point it cannot rise any more and spreads into the anvil.
Photo by Terry O'Leary, Virginia Beach, VA, USA.