Our Observations
Below are today's clouds observations from citizen scientists around the world. You can use the measurements menu in the map to find observations from other days.
Tips:
Clicking question mark icon in the upper right hand corner can access an informational tutorial.
Layers and Filters can be found in a hideaway menu along the left side of the screen. Layers allow you to select a data set. Filters allow you to adjust location/site, elevation, and observer.
Cursor latitude and longitude are in the bottom left corner.
Legends can be found in a hideaway menu along the bottom right of the screen.
Map Type, Map Date, Data Counts and Base Layer Controls can be found along the top navigation of the map.
Movement controls are the add and subtract bar along the right hand side of the map.
Data icons will populate the map, representing reported data at a specific location on a specific date.
GLOBE Observer data will populate the map. To select specific data, click "Add+" next to Data Layers in the left hand hideaway menu. Select the data set you wish to view from the drop down menu and click the "Add Layer" button.
Clicking on an icon on the map opens a site info window, revealing site measurements, data counts, site info and data viewing options.
A full tutorial is available via power point or pdf.
Did you Know?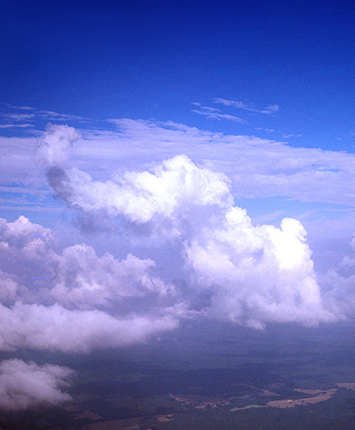 Elephant Cumulus
Cloud type is cumulus congestus: these are clouds that are more strongly developed than fair weather cumulus and may become thunderstorms later in the day if the atmosphere is sufficiently unstable.
Photo taken by Dr. Bruce Wielicki, CERES Principal Investigator.