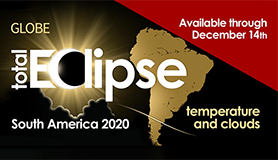 12/14/2020
Total Solar Eclipse in South America on 14 December 2020
The eclipse will pass across the southern part of South America, slightly further south than the path of the eclipse on 02 July 2019. This year's eclipse will begin over the Pacific Ocean, and the lunar shadow will enter South America near Lago Budi, Chile and end near Las Grutas, Argentina. Outside this path, a partial solar eclipse will be visible in the rest of Chile and Argentina as well as Bolivia, Paraguay, Uruguay and parts of Ecuador, Peru, and Brazil.
>>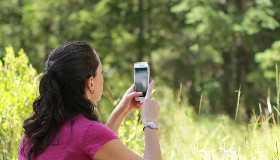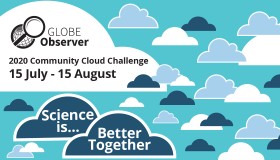 07/15/2020
2020 Community Cloud Challenge: Science is Better Together
This summer (or winter if you should live in the Southern Hemisphere) join GLOBE in the 2020 Community Cloud Challenge: Science is Better Together. This year there are a variety of ways for the public to participate as a community and build skills as a cloud observer.
>>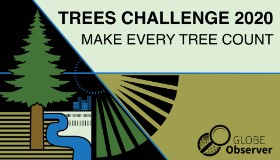 04/01/2020
POSTPONED - Trees Challenge 2020: Make Every Tree Count
To celebrate the 50th anniversary of Earth Day and the 25th anniversary of the GLOBE Program, GLOBE Observer is hosting a month-long citizen science challenge in April 2020. Volunteers are invited to measure the height of as many different trees as possible throughout the month using the Trees tool in the GLOBE Observer app. The individuals, schools, and registered teams that measure the most trees will be recognized as top observers in the challenge. Learn more on the challenge webpage.
>>
02/19/2020
Trees Challenge 2020 Webinar
For our education partners interested in incorporating the Trees 2020 Challenge: Make Every Tree Count into their Earth Day planning, we are offering an informational webinar on February 19th at 2:00 pm EST/19:00 UTC. This webinar (an hour and a half long) will introduce a package of resources to support informal educators and GLOBE schools. The package includes information about trees and NASA science, connections to local tree science relevant to your community, ideas about how to manage a Trees challenge, learning activities, and other resources. The webinar will be recorded and provided for reference on the challenge website, https://observer.globe.gov/trees-2020.
>>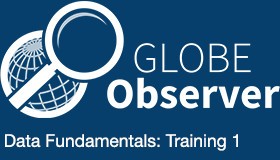 01/23/2020
GLOBE Data Fundamentals: Training 1
This virtual training will teach research scientists about GLOBE data and how to access it. The Global Learning & Observations to Benefit the Environment (GLOBE) Program is an international, NASA-sponsored program with more than 150 million Earth observations contributed by 35,000 schools and 150,000 citizen scientists in 120 countries. The virtual training includes demonstrations of GLOBE's free online data access and visualization tools. Training is 60 minutes, from 1-2 PM Eastern Time. No prior knowledge or experience with GLOBE required. Register here: http://bit.ly/GLOBE-Data
>>